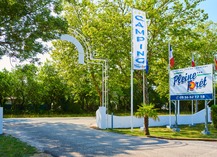 Number of mobile homes :
182
Camping Pleine Forêt
http://www.campingpleineforet.com/
Camping Pleine Forêt, au rythme des marées
Andernos les Bains, seaside resort, 40 km from Bordeaux, 12 km from the beautiful beaches of océans: meet surfers and idleness, 2.5 km from the beaches of the Bassin, near the vineyards of Bordeaux.
Pleine Forêt is a welcoming campsite, we offer a wide range of: Mobile home or chalet on a flat and green ground, the 266 sites bloom a good iodized air and conifers.
On site, enjoy our heated pool and paddling pool for children, play on the beach and enjoy the playground for children.
From the center of Andernos-les-Bains, take the coastal path to enjoy the oysters or admire the Pyla dune, the Arguin bank and the bird island by boat.
The Arcachon basin, a magical place ..
Last update :
31/07/2021 08:01
| | |
| --- | --- |
| Zones of school holidays : | |
| | |
| --- | --- |
| ZONE A : | Besançon, Bordeaux, Clermont-Ferrand, Dijon, Grenoble, Limoges, Lyon, Poitiers |
| ZONE B : | Aix-Marseille, Amiens, Caen, Lille, Nancy-Metz, Nantes, Nice, Orléans-Tours, Reims, Rennes, Rouen, Strasbourg |
| ZONE C : | Créteil, Montpellier, Paris, Toulouse, Versailles |
| Prices | Min | Max | Description | Application Period |
| --- | --- | --- | --- | --- |
| Mobile home rental / week | 495€ | 750€ | | from . 10/04/2021 to 30/10/2021 |
| Mobile home rental / week | 525€ | 850€ | | from . 10/04/2021 to 30/10/2021 |
| Mobile home rental / week | 580€ | 990€ | | from . 10/04/2021 to 30/10/2021 |
| Mobile home rental / week | 495€ | 690€ | | from . 10/04/2021 to 30/10/2021 |
| Mobile home rental / week | 580€ | 1090€ | | from . 10/04/2021 to 30/10/2021 |
| Mobile home rental / week | 635€ | 1290€ | | from . 10/04/2021 to 30/10/2021 |
| | 495€ | 750€ | | from . 10/04/2021 to 30/10/2021 |
Camping Pleine Forêt
Address :
173 Avenue de Bordeaux
33510 Andernos-les-Bains
Phone :
Spoken languages