The major UNESCO sites : Bordeaux, St Emilion, The Vauban fortifications
Crédits photos : O. Boisseau
Three major sites are inscribed on the UNESCO World Heritage List
Bordeaux, Port of the Moon

Wine capital, listed city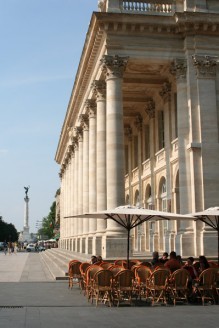 In the last few years, the world wine capital and the capital of Aquitaine has undergone a makeover. Thanks to its redesigned docks, a brand-new tramway and a pedestrianised city centre, the city was inscribed as a UNESCO World Heritage Site in June 2007 under the category' exceptional urban ensemble'.
More than 347 historic monuments, a protected area of 150 hectares, 3 churches already listed as World Heritage sites under the category 'monuments on the St. James' Way'.
Discover the picturesque districts of the old city on foot, by tram or by bike, take the time to stroll around the many pedestrianised streets in the city centre or along the banks of the Gironde.
Visiting Bordeaux
Bordeaux Tourist Ofice
www.bordeaux-tourisme.com

Saint Emilion

One of the most beautiful villages in France
Nestling among the vines, the village of Saint Emilion built entirely in light-coloured stone with its Romanesque roof tiles captivates visitor from the word go.
Birthplace of the famous Ausone, Cheval Blanc and Petrus châteaus, Saint Emilion and its 8 municipalities were inscribed on the UNESCO World Heritage List in 1999 under the category 'cultural landscapes.
Things to see : the biggest underground church in Europe and its catacombs, the collegiate church
and cloister, the Tour du Roy tower, the Cordeliers convent…
Visiting Saint Emilion
Saint Emilion tourist office
www.saint-emilion-tourisme.com

The Verrou Vauban fortifications
Built between 1685 and 1689 by the famous architect Vauban to protect Bordeaux, the citadel of Blaye was inscribed on the UNESCO World Heritage List in 2008 under the name « Verrou Vauban », along with Fort Pâté (on the island of the same name) and Fort Médoc on the left bank of the estuary.
Visiter le verrou Vauban en bateau :
Office de Tourisme de Blaye
Maison du Tourisme et du Vin de Pauillac