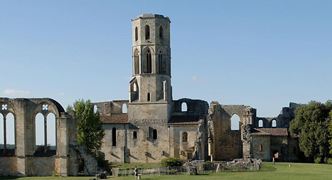 Founded in 1079, this Benedictine abbey was the essential stop in Gironde on the St. James' Way.
Superb Romanesque figured capitals ; a stunning view over Entre-deux-Mers and the walled town of Créon.
La Sauve Majeure abbey and St. Peter's church were inscribed on the UNESCO list of "World Heritage sites" as monuments on the St. James' Way.
For more information and for visits to La Sauve Majeure abbey
+33 (0)5 56 23 01 55
abbaye.sauve-majeure@monuments-nationaux.fr
www.la-sauve-majeure.monuments-nationaux.fr