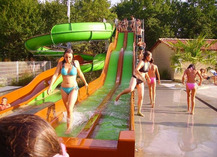 Lieu-dit Fourthon
route de lesparre
33112
Saint-Laurent-Médoc
Number of mobile homes :
43
Camping Le Paradis Médoc
http://leparadis-medoc.com
le paradis des enfants et le bien être des parents !
Situated in the heart of the Medoc between prestigious Chateaux and the ocean, Le Paradis campsite caters for every budget. Friendly atmosphere with plenty of activities for the children. Great food with special planed menus each week. Entertainment and fun evenings in the program. Providing 70 places for camping cars, caravans, tents and 28 accommodations that sleeps 4 and 6 people. Bungalows, cottages, and mobile homes are all fully equipped in beautiful surroundings with plenty of shade. Nature at its best, forest all around, a great place for all the family.
Camping Le Paradis Médoc
Address :
Lieu-dit Fourthon
route de lesparre
33112 Saint-Laurent-Médoc
Phone :
Spoken languages