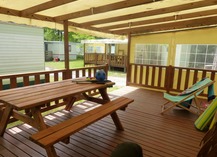 102, rue d'Aquitaine
Route des Lacs
Camping Le Littoral
http://www.camping-lelittoral.fr
Camping familial, ombragé, plaisir des activités nautiques et sportives à proximité.
With 65kms of Bordeaux in the Medoc
With 2kms of the Lake Hourtin (more the big lake of France)
With 12kms of the Atlantic Ocean
***
The camp-site the Littoral, 136 wooded sites on 4ha of pines and oaks, proposes to you for your comfort, your leisures and your relaxation:
* swimming pool, tennis, volleyball
* plays for children
* gaming room
* track of dance with its bar grill
* snack bar, bar, grocer
* WIFI, washing machine with tokens
* Hiring of Mobil-homes and caravans

Ideal by its geographical location, you can practice, of March to November, all the sports and leisures which offers to you the lake, the ocean and the forest: veil, VTT, surfing, hikes, fishing…
And behind season the hunting and the gathering of mushrooms (many in our area)!
***
This area, still safeguarded by its environment, proposes to you: the discovery of the Medoc and its prestigious castles where mix narrowly Vin and Gastronomy, weekend relaxation, sporting stay… of the varied and convivial holidays with HOURTIN!
https://www.google.fr/maps/@45.1736026,-1.0533299,3a,46.9y,74.52h,92.32t/data=!3m7!1e1!3m5!1sFWH2chsB_aIAAAQvPEAAaA!2e0!3e2!7i13312!8i6656!6m1!1e1
Camping Le Littoral
Address :
102, rue d'Aquitaine
Route des Lacs
33990 Hourtin
Phone :
05 56 09 13 73
06 78 16 53 49
Spoken languages