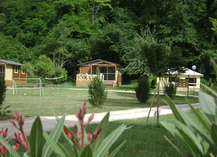 6 Blabot-Bas
Suivre Rue Peyruc
Number of mobile homes :
11
Camping Du Vieux Château
http://www.vieuxchateau.fr
Owners since 2014, Thom and Pelagie welcome you to Camping du Vieux Château, situated at the foot of a medieval castle that adds a touch of magic to this quiet and green site. The site is just 200m walk from the village of Rauzan in Gironde. Camping du Vieux Château is an independent campsite member of Campings La Via Natura and labelled Camping Qualité, Qualité Tourisme and Vignobles et Découvertes.

Located at 35 km from Bordeaux and 13km from Saint Emilion in the heart of the Bordeaux vineyards, this charming campsite is a central point to discover the treasures of the Nouvelle-Aquitaine region (Bordeaux, Arcachon, Bergerac, Dordogne river, Dune du Pilat…)

In a park of 2.6ha, large and semi-shady pitches for tents, caravans and motor homes are greatly appreciated by tourists who enjoy tranquility nature.
The rental of mobile homes, cottages, bungalow tents, perched tents, l'Alcôve the ready-to-camp and Le Truck an atypical authentic is also possible for a quiet and pleasant stay.
The large heated swimming pool and the paddling pool welcome young and old, the sauna is accessible all season long. The campsite is a family campsite par excellence with activities and excursions for everyone.
During the high season, the snack-bar is open every night so you can eat and drink on site while on Thursday evenings you can enjoy festive evenings in a friendly atmosphere, ending at 22:00 to ensure a quiet night.
Full Wifi coverage.
Entertainment: archery, playground, bouncy castle, petanque, multi-sports ground, geocaching, craft market in season.

In 2022, open from April 1st till October 14th.
Ideas for outings in the near vicinity: Wine Chateaux and cellars, Grotte Celestine (Subterranean river and large caves), Medieval castle,…
You can find more live info on our web site or Facebook page.
Last update :
01/04/2022 16:58
| | |
| --- | --- |
| Zones of school holidays : | |
| | |
| --- | --- |
| ZONE A : | Besançon, Bordeaux, Clermont-Ferrand, Dijon, Grenoble, Limoges, Lyon, Poitiers |
| ZONE B : | Aix-Marseille, Amiens, Caen, Lille, Nancy-Metz, Nantes, Nice, Orléans-Tours, Reims, Rennes, Rouen, Strasbourg |
| ZONE C : | Créteil, Montpellier, Paris, Toulouse, Versailles |
| Prices | Min | Max | Description | Application Period |
| --- | --- | --- | --- | --- |
| Price for one day 2 adults, 2 children (11 and 4 years) with electricity | 19€ | 27€ | | from . 01/04/2002 to 14/10/2022 |
| | 317€ | 698€ | | from . 01/04/2022 to 15/10/2022 |
| | 339€ | 746€ | | from . 01/04/2022 to 14/10/2022 |
| | 407€ | 895€ | | from . 01/04/2022 to 14/10/2022 |
| | 376€ | 826€ | | from . 01/04/2022 to 14/10/2022 |
| | 334€ | 735€ | | from . 01/04/2022 to 14/10/2022 |
| | 219€ | 482€ | | from . 01/04/2022 to 14/10/2022 |
| | 235€ | 516€ | | from . 01/04/2022 to 14/10/2022 |
| | 282€ | 620€ | | from . 01/04/2022 to 14/10/2022 |
| | 230€ | 464€ | | from . 01/04/2022 to 14/10/2022 |
| | 218€ | 356€ | | from . 21/05/2022 to 10/09/2022 |
Camping Du Vieux Château
Address :
6 Blabot-Bas
Suivre Rue Peyruc
33420 Rauzan
Phone :
Spoken languages