Camping Municipal Les Gabarreys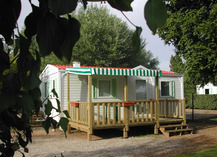 Route de la Rivière
Le Pastain
Number of mobile homes :
7
Camping Municipal Les Gabarreys
https://www.pauillac-medoc.com/fr/pauillac-tourisme/manger-dormir/camping-les-gabarreys/
Au coeur du prestigieux vignoble Médocain
Located in the middle of the Médoc vineyard. An open air Camp site in a beauty spot. Near by the Estuary of the Gironde, just off the chateaux Lafite Rothschild, Mouton Rothschild, Latour... Not very far from the lakes of Hourtin, lacanau and from the sea.
Two hectares of oaktrees, willowtrees and popplartrees perfect for peace and nature lovers.
Camping Municipal Les Gabarreys
Address :
Route de la Rivière
Le Pastain
33250 Pauillac
Phone :
Spoken languages