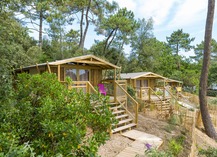 Number of mobile homes :
44
Flower Camping Des Pins
http://www.campingdespins.fr
The Atlantic Ocean "au naturel", for unforgettable outdoor holidays.
Our family campground is located in an enchanting 4ha hilly complex in the middle of a pine and oak-tree forest, less than two kilometers from the legendary fine-sand beaches of the Atlantic Ocean and at the gateway to internationally renowned vineyards.

Our camping is pedestrian for the delight of children and parents.

Come and discover Soulac, a stopping point on the route to Santiago de Compostela, with its 100 classified villas and its basilica,its beach...

Discover our special offers COUPLE at 196€ / week' , 'Privilège at 269€ / week in a SweetFlower, 239€ in a SweetJunior'.....
Nouveauté : Lodge SWEET FLOWER
Déstination Médoc
Last update :
17/05/2019 10:10
| | |
| --- | --- |
| Zones of school holidays : | |
| | |
| --- | --- |
| ZONE A : | Besançon, Bordeaux, Clermont-Ferrand, Dijon, Grenoble, Limoges, Lyon, Poitiers |
| ZONE B : | Aix-Marseille, Amiens, Caen, Lille, Nancy-Metz, Nantes, Nice, Orléans-Tours, Reims, Rennes, Rouen, Strasbourg |
| ZONE C : | Créteil, Montpellier, Paris, Toulouse, Versailles |
| Prices | Min | Max | Description | Application Period |
| --- | --- | --- | --- | --- |
| Pitch price | 21.5€ | 42€ | Pitch with electricity. Price is per night and includes 2 people and 1 tent/caravan or camper van. Extra charge for extra people or tents. | from . 25/05/2019 to 28/09/2019 |
| Pitch price | 36€ | 63€ | Price per night for a pitch for 2 people with a fully equipped tent ( table, chairs, dishes, cooking station, 1 bedroom with a mattress). Extra charge for extra people, bedroom or electricity | from . 25/05/2019 to 28/09/2019 |
| Price for one day 2 adults, 2 children (11 and 4 years) with electricity | 58€ | 139€ | Comfortable and fully equipped mobil home 32 m2 for up to 5 people with 2 bedrooms. Price for 1 week. | from . 25/05/2019 to 28/09/2019 |
| Price for one day 2 adults, 2 children (11 and 4 years) with electricity | 74€ | 157€ | Comfortable and fully equipped mobil home 34m2 for up to 8 people. Price per week. | from . 25/05/2019 to 28/09/2019 |
| Price for one day 2 adults, 2 children (11 and 4 years) with electricity | 72€ | 150€ | One of our premium mobil home. Fully equipped for up to 5 people. It contains 2 bedrooms and 2 bathrooms. price is for the week. | from . 25/05/2019 to 28/09/2019 |
| Price for one day 2 adults, 2 children (11 and 4 years) with electricity | 79€ | 177€ | Charming Sweetflower 43 m² (2 bedrooms) with terrace ; for 4/6 people | from . 25/05/2019 to 28/09/2019 |
| Price for one day 2 adults, 2 children (11 and 4 years) with electricity | 79€ | 171€ | The Amazon Hut is a fully equipped tent. the price is for a week for up to 4 people. Children just love it!! The tent contains a kitchen (micro wave, fridge, cooking station, dishes, table chairs....), 2 bedrooms. It does not have running water so no bathroom or toilets. | from . 25/05/2019 to 28/09/2019 |
| Price for one day 2 adults, 2 children (11 and 4 years) with electricity | 46€ | 113€ | Mobil-home Confort + 21M2 (1 Bedr. - 2 peo.) + terrace | from . 25/05/2019 to 28/09/2019 |
| Price for one day 2 adults, 2 children (11 and 4 years) with electricity | 59€ | 142€ | Mobil-home Confort + 32M2 (2 CH. - 5/6 pers.) dont Terrasse Couverte | from . 25/05/2019 to 28/09/2019 |
| Price for one day 2 adults, 2 children (11 and 4 years) with electricity | 52€ | 128€ | One of our premium mobil home. Fully equipped for up to 5 people. It contains 2 bedrooms and 2 bathrooms. price is for the week. | from . 25/05/2019 to 28/09/2019 |
| Price for one day 2 adults, 2 children (11 and 4 years) with electricity | 79€ | 165€ | Pretty Lodge with 3 rooms for 6 persons. | from . 25/05/2019 to 28/09/2019 |
Flower Camping Des Pins
Address :
213, passe de formose
33780 Soulac-sur-Mer
Phone :
Fax :
Spoken languages