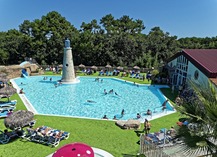 Number of mobile homes :
121
Camping Les Lacs
http://www.camping-les-lacs.com
Offre Marathon du Médoc

Valid from 04 September 2019 to 11 September 2019

This offer expires in :

--

Days

-- : -- : --

Hours

Min

Sec

Offre Marathon du Médoc

Valid from 04 September 2019

to 11 September 2019

N° 66A37065

Address :

126 route des Lacs

33780 Soulac-sur-Mer

* Offer n°66A37065 is being proposed by Camping Les Lacs who are committed to carrying out all their obligations concerning the nature of the offer proposed. You may consult the conditions on the website campings de la Gironde. Simply show the printed voucher or the screen on your smartphone or tablet in order to benefit from it with the establishment in question.

Print
The Camping Les Lacs, located just 2500m from the magnificent Altantic beaches of the Côte d'Argent, offers you the hire of mobil-home or chalets with terrace. For fun and games : a swimming-pool with slide, a padding-pool for children, an indoor heated pool as from the start of the season with balneotherapy facilities, miniature golf course, children's playground, table tennis, bowls, open air games.... You can also visit the prestigious wine châteaux in the immediate vicinity and taste some of their finest wines.
Last update :
04/12/2018 10:25
| | |
| --- | --- |
| Zones of school holidays : | |
| | |
| --- | --- |
| ZONE A : | Besançon, Bordeaux, Clermont-Ferrand, Dijon, Grenoble, Limoges, Lyon, Poitiers |
| ZONE B : | Aix-Marseille, Amiens, Caen, Lille, Nancy-Metz, Nantes, Nice, Orléans-Tours, Reims, Rennes, Rouen, Strasbourg |
| ZONE C : | Créteil, Montpellier, Paris, Toulouse, Versailles |
Camping Les Lacs
Address :
126 route des Lacs
33780 Soulac-sur-Mer
Phone :
Fax :
Spoken languages