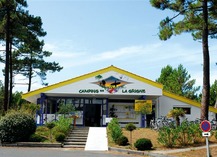 Number of mobile homes :
25
Camping Municipal La Grigne
http://www.camping-leporge.fr
De l'émotion à l'état pur!
In Europe's largest pine forest, just 600m far from the supervised ocean beach remains wild, with straight access (private footpath) on 72 acres of wooded and hilly ground. Mobil-home rental, low-prices in low-season.
You will find a supermarket, a snack-bar, a multisport area, a mini-golf and a play-ground for the children.
Le Porge-Ocean is located on the Atlantic coast, closed to the Arcachon bay and near Bordeaux and the Medoc castles.
| | |
| --- | --- |
| Zones of school holidays : | |
| | |
| --- | --- |
| ZONE A : | Besançon, Bordeaux, Clermont-Ferrand, Dijon, Grenoble, Limoges, Lyon, Poitiers |
| ZONE B : | Aix-Marseille, Amiens, Caen, Lille, Nancy-Metz, Nantes, Nice, Orléans-Tours, Reims, Rennes, Rouen, Strasbourg |
| ZONE C : | Créteil, Montpellier, Paris, Toulouse, Versailles |
Prices
Min
Max
Description
Application Period
350€
550€
Tent bungalow 4 pers.
from . 14/06/2020 to 12/09/2020
350€
910€
Mobil-home 4/6 pers. Lou Rousiney
from . 04/04/2020 to 27/09/2020
365€
975€
Mobil-home 4/6pers COTTAGE
from . 04/04/2020 to 27/09/2020
400€
1005€
Mobil-Home 6/8 pers LOU PESCADOU
from . 04/04/2020 to 27/09/2020
Pitch price
15.80€
27.00€
2 pers. + Tent + car
from . 04/04/2020 to 27/09/2020
Pitch price
20.60€
33.00€
2 pers + Tent + electricity + car
from . 04/04/2020 to 27/09/2020
Pitch price
18.20€
30.90€
2 pers + caravan or camping-car
from . 04/04/2020 to 27/09/2020
Pitch price
23€
2 pers + caravan + electricity
from . 04/04/2020 to 27/09/2020
Camping Municipal La Grigne
Address :
35, Avenue de l'Océan
33680 Le Porge
Phone :
Fax :
Spoken languages