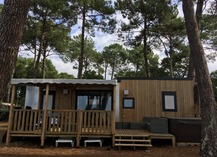 4, Boulevard Colonel Wurtz
Phone :
+33 05 56 82 01 67
Number of mobile homes :
114
Camping Fontaine Vieille
http://www.fontainevieille.fr
In the edge of Arcachon Bassin, in a forest park, ideal spot for quiet and family holidays.
In the edge of Arcachon Bassin, 3 km from the city center of Andernos, near bicycle paths, the Fontaine-Vieille campsite will welcome you in a family and warm atmosphere.
Animations, swimming pool with covered and heated pool (open from april), accomodations, shaded pitches, everything is gathered here to spend a pleasant stay.
Last update :
19/01/2021 10:16
| | |
| --- | --- |
| Zones of school holidays : | |
| | |
| --- | --- |
| ZONE A : | Besançon, Bordeaux, Clermont-Ferrand, Dijon, Grenoble, Limoges, Lyon, Poitiers |
| ZONE B : | Aix-Marseille, Amiens, Caen, Lille, Nancy-Metz, Nantes, Nice, Orléans-Tours, Reims, Rennes, Rouen, Strasbourg |
| ZONE C : | Créteil, Montpellier, Paris, Toulouse, Versailles |
| Prices | Min | Max | Description | Application Period |
| --- | --- | --- | --- | --- |
| Pitch price | 19.00€ | 42.00€ | | from . 02/04/2021 to 03/10/2021 |
| Pitch price | 20.00€ | 52.00€ | | from . 02/04/2021 to 03/10/2021 |
| Pitch price | 27.00€ | 58.00€ | | from . 02/04/2021 to 03/10/2021 |
| Price campervan pitch | 18.00€ | 30.00€ | | from . 02/04/2021 to 03/10/2021 |
| | 420.00€ | 847.00€ | | from . 02/04/2021 to 03/10/2021 |
| | 455.00€ | 980.00€ | | from . 02/04/2021 to 03/10/2021 |
| | 490.00€ | 1085.00€ | | from . 02/04/2021 to 03/10/2021 |
| | 560.00€ | 1197.00€ | | from . 02/04/2021 to 03/10/2021 |
| | 525.00€ | 1190.00€ | | from . 02/04/2021 to 03/10/2021 |
| | 574.00€ | 1295.00€ | | from . 02/04/2021 to 03/10/2021 |
| | 574.00€ | 1295.00€ | | from . 02/04/2021 to 03/10/2021 |
| | 609.00€ | 1470.00€ | | from . 02/04/2021 to 03/10/2021 |
| | 630.00€ | 1498.00€ | | from . 02/04/2021 to 03/10/2021 |
| | 315.00€ | 693.00€ | | from . 08/05/2021 to 03/10/2021 |
| | 609.00€ | 1295.00€ | | from . 02/04/2021 to 03/10/2021 |
| | 315.00€ | 693.00€ | | from . 02/04/2021 to 03/10/2021 |
Camping Fontaine Vieille
Address :
4, Boulevard Colonel Wurtz
33510 Andernos-les-Bains
Phone :
Spoken languages