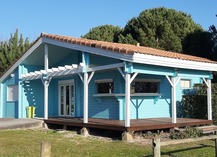 Number of mobile homes :
64
Camping Le Braou
http://www.camping-audenge.com
Between Arcachon and Cap Ferret, a unique place, its animals, plants, hiking by foot or bicycle.
Within the Regional Park of Landes de Gascogne, along the Bassin d'Arcachon, camping Braou The residence offers a tranquil, halfway between Arcachon and Cap Ferret.
Discover the local fauna and flora in a wild place thanks to the many paths prédestres and bike paths built.
Experience with the tides, the comings and goings of the oystermen pisne and enjoy exceptional sunsets. A swimming pool, a playground for children, a snack, a volleyball you will enjoy your stay.
| | |
| --- | --- |
| Zones of school holidays : | |
| | |
| --- | --- |
| ZONE A : | Besançon, Bordeaux, Clermont-Ferrand, Dijon, Grenoble, Limoges, Lyon, Poitiers |
| ZONE B : | Aix-Marseille, Amiens, Caen, Lille, Nancy-Metz, Nantes, Nice, Orléans-Tours, Reims, Rennes, Rouen, Strasbourg |
| ZONE C : | Créteil, Montpellier, Paris, Toulouse, Versailles |
Prices
Min
Max
Description
Application Period
210.00€
560.00€
from . 08/05/2021 to 25/09/2021
224.00€
595.00€
from . 08/05/2021 to 25/09/2021
259.00€
784.00€
from . 27/03/2021 to 17/10/2021
Pitch price
16.00€
30.00€
from . 27/03/2021 to 17/10/2021
2.00€
from . 01/01/2021 to 31/12/2021
273.00€
819.00€
from . 27/03/2021 to 17/10/2021
294.00€
840.00€
from . 27/03/2021 to 17/10/2021
294.00€
910.00€
from . 27/03/2021 to 17/10/2021
294.00€
910.00€
from . 01/05/2021 to 17/10/2021
329.00€
945.00€
from . 27/03/2021 to 17/10/2021
329.00€
945.00€
from . 27/03/2021 to 17/10/2021
Pitch price
28.00€
48.00€
from . 01/05/2020 to 17/10/2021
Camping Le Braou
Address :
26, rue de Bordeaux
33980 Audenge
Phone :
Spoken languages