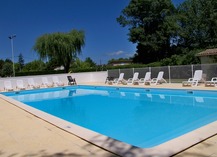 Number of mobile homes :
24
Camping Les Peupliers
https://www.camping-montalivet-lespeupliers.com/
Our Camping in Gironde, Aquitaine, France, the Camping Les Peupliers is a 3 stars camping, offering various pitches, Mobil-homes and caravans rentals. The camping offers numerous free services. The camping is equipped with a swimming pool, a Snack, a grocery and a playground. The camping proposes rentals of Mobil homes and caravans for your holiday's rental, pitches for traditional stay in Tents, caravans or camping car but also pitches rental year-round for Mobil-home and caravans. Located minutes downtown Vendays-Montalivet, you will find all commodities on foot.
Visite du Camping en vidéo
Camping_les_peupliers_vendays_montalivet
Camping_les_peupliers_vendays_montalivet
Camping_Les_Peupliers_Vendays_Montalivet
Camping_Les_Peupliers_Vendays_Montalivet
Camping_Les_Peupliers_Vendays_Montalivet
Camping_Les_Peupliers_Vendays_Montalivet
Camping_Les_Peupliers_Vendays_Montalivet
Camping_les_peupliers_Montalivet
camping_les_peupliers_vendays_montalivet
Camping Les Peupliers
Address :
17 Route de Sarnac
33930 Vendays-Montalivet
Phone :
Spoken languages