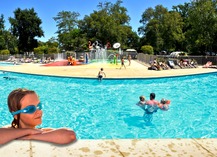 Camping Les Ourmes
https://www.lesourmes.fr/
Nature lover, sportman, in couple or in family, come to discover our domaine for a stay in Hourtin convenient to the relaxation, to the sliding sports, to the bike rides along the cycle paths. Together, young and adult, take part into the activities, animations (games, tournaments,....) proposed inside or outsite the campsite. Then enter the wineyard ( Pauillac at 25 km), visite a cellar and finish by a tasting.
Lake, ocean, forest, wineyard......
Another idea of the holidays !
Camping Les Ourmes à Hourtin
Camping Les Ourmes**** Hourtin Gironde Côte Atlantique entre Soulac, Lacanau..région Bordeaux et Bassin d'Arcachon
Camping Les Ourmes ****
camping les ourmes
camping les ourmes
camping les ourmes
camping les ourmes
camping les ourmes
camping les ourmes
camping les ourmes
camping les ourmes
camping les ourmes
camping les ourmes
camping les ourmes
camping les ourmes
camping les ourmes
camping les ourmes
camping les ourmes
camping les ourmes
camping les ourmes
camping les ourmes
camping les ourmes
camping les ourmes
camping les ourmes
camping les ourmes
camping les ourmes
Camping Les Ourmes
Address :
90, Avenue du lac
33990 Hourtin
Phone :
Spoken languages